How I Stay Organized with FIVE JOBS
Guys, I'm not sure if you know this but I LOVE organizing. Closets, my house, my life, my blog posts… I was a big pusher for organized Pinterest boards and keep mine expertly organized by season and style. AND, if you haven't noticed, thanks to Tidying Up and Marie Kondo, 2019 is THE YEAR for organization.
That being said, I also am incredibly busy. I have my day job in immigration, this blog, my company Shop The City, my coaching side hustle Waeves, and not to mention my passive income as an AirBnB host… How do I do it all and not go insane? The key is HEAVY organization.
In keeping with the January theme of a New Year, New You I'm spilling all of my organizing secrets! Scroll on down to see how I stay sane working on my many projects.
My number one tool is a physical planner. Every year my Sister in Law gets me a gorgeous custom Paper Source planner. I then stock up on my fave pens from Top Drawer. I'm a big fan of Pilot's Frixion eraseable pens.
I use a different color for each business, that way they are organized and differentiated.
I then plan out my scheduled events - blog events, wardrobe audits, bill due dates, Skype sessions, etc. I try to make the corresponding color match with the business; Orange I use for Shop The City, since it's the signature color, Light Blue I use for Waeves, since it's like a wave; Purple for Que Sera Sahra, because its feminine but cool, Pink for AirBnB notifications, due to the branding. I note bill dates in RED, personal events like birthday and haircuts in black… you get the gist of it.
Next up in my organization arsenal - Asana. This supertool is used by some of the worlds biggest and brightest teams, and some of the smallest (ahem, me). I started using it in my day job for our team of four, but immediately also found it useful in my personal life, as the manager of many ongoing projects.
I love that I can create different "projects", each with their own tasks and sub-projects. I have one for QSS, one for Shop The City, one for Waeves, and a general task sheet, each color coded (of course) to match the colored pens I use in my physical planner. When I'm on the go and an idea strikes, I just open the Asana app and create the task, set a due date, and get alerts for when different tasks are due.
Honestly, Asana has been kind of life changing on collaboration projects, as it's a great way to keep me running everything on time and remember all of the deliverables.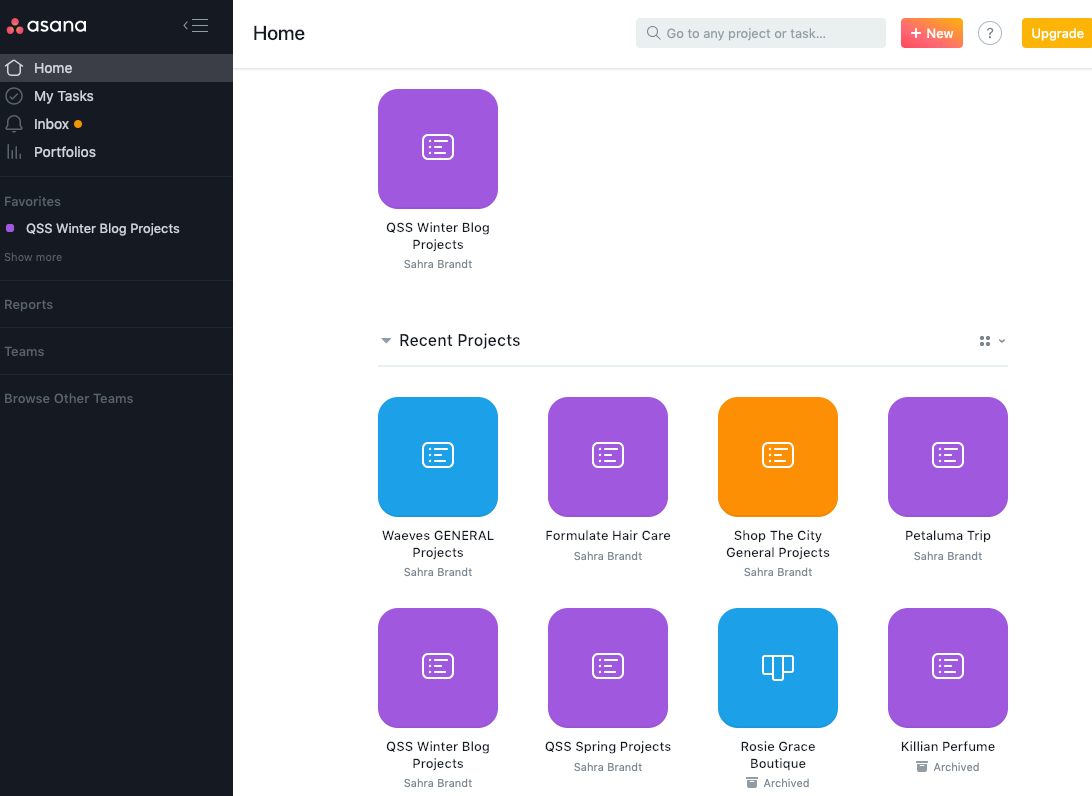 How I use Asana to Stay Organized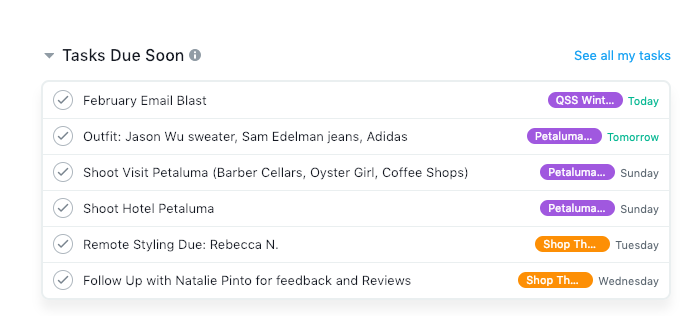 Staying on top of tasks and due dates with Asana.
Lastly, I stay on top of finances with the help of an easy to use expense tracking spreadsheet on Excel. I know, it's not groundbreaking, its not a fancy new app or Quickbooks competitor. However, as a naturally organized woman, this works for me. I balance the spreadsheets (a separate one in GoogleDocs for each business) against my bank statements and PayPal statements about every 3 weeks to ensure I'm on top of my finances.
What's your favorite tool that helps you stay organized? Do you have more than one business?
Don't Forget to Follow Me!
On BlogLovin' ///// On Twitter ///// On Facebook
On InstaGram ///// On Pinterest